A kiosk.
A man with apron that he moves at intervals and with harmonic gestures, behind the counter.
A crowd of people who look forward to their turn.
This is the perfect mix to present one of the specialties' street food in Palermo: 'u pani cà  meusa (bread with a spleen)!
What's it?
'U pani cà meusa is a gastronomic specialty characteristic of the city of Palermo, an example par excellence of the so-called "street food". It's made up of a vastedda (typically round-shaped bread), covered with sesame and stuffed with meusa (milza), lung, heart, and scannaruzzatu (pieces of cartilage of the trachea) of veal. First, they are boiled entire and, after they having been cut finely, they are fried in saimi (suet). The bread can be served schettu (single, not married), only with salt, pepper and a squeeze of lemon, or maritatu (married, accompanied) with caciocavallo cheese or grated ricotta cheese. Obviously it should be served hot, wrapped in paper and eaten aggritta (standing) with pleasant company.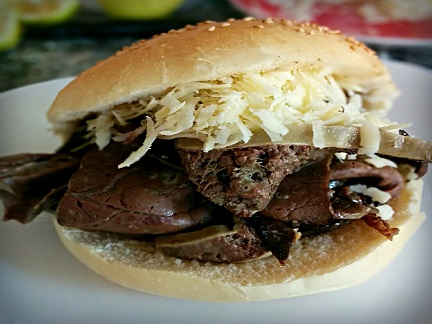 Origins
The origins are ancient and date back to the Middle Ages. The Palermitan Jews engaged in the slaughter of the meat, they kept for themselves the entrails of the calves as compensation, because they couldn't receive money for their profession for reasons related to their religion. The entrails were sold inside bread with some cheese. King Ferdinand II of Aragon, called "the Catholic", drove away the Jewish community but, fortunately, this delicacy survived, becoming a typical food of the city.
Curiosity
'U meusaru, who prepares 'u pane cà meusa, has special tools: an inclined pot to collect the fat in which to cook the meat, a two-pronged fork to take the slices of meat that will be put in the bread and a perforated scoop that he uses to drain the excess oil. Most of the historical meusari are found in the historical markets of Palermo: Capo, Vucciria, Ballarò.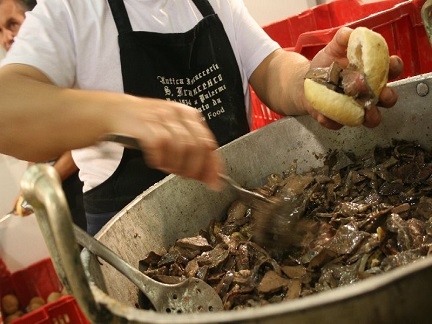 I love sandwiches. Let's face it, life is more beautiful between two pieces of bread.